Buy now for $110 / €85 / £80
Please read the License agreement. Only purchase if you agree to these terms.
Get your full version with these easy steps:
1) Download and install the demo version if you don't have it already.
Windows
MacOSX
2) Purchase a license to use the full version of Kinisis.
START YOUR PURCHASE
(We use Share-it to handle purchases).
You will receive your serial number by email.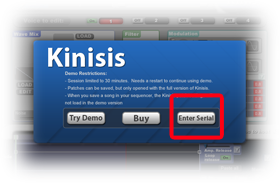 3) Load Kinisis in your sequencer, open the graphical interface and choose 'Enter serial'


Enter your full name as you entered it on the Share-it store page, and your serial number that you received via email after your purchase.
Your copy of Kinisis will be unlocked and ready to use fully!
START YOUR PURCHASE
Having problems with your purchase?
Email us
and we'll help you out.


What is Share-it?
This is a service we use to handle purchases and deliver your serial number. You will be taken to Share-it's webpage in order to make your purchase.