Multi-effect for gentle tweaking through to full-on mangling!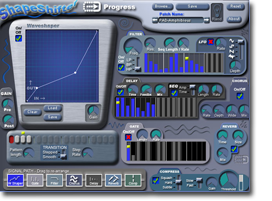 FEATURES:
ShapeShifter is a multi-effect VST plug-in which gives you a number of tools for changing your sounds, ranging from subtle effects through to extreme mangling of your audio. The following effects modules are included:
Waveshaper linked to a step sequencer, allowing you to create changes in tone that normal waveshapers can't achieve
Resonant Filter including an LFO and step sequencer to control the cut-off frequency
Stereo Delay including step sequencers to vary the delay settings over time
Gate to create rhythmic changes in volume
Chorus & Reverb to fill out sounds and add some polish
Compressor for controlling the dynamics of the audio.
ShapeShifter uniquely ties a waveshaper to a step sequencer, allowing you to blend between waveshaper settings in time with your track, creating interesting changes in tone.
Additionally, the signal path is configurable so that the effects can be ordered any way you like for maximum flexibility.

A sound is worth a thousand words, so take a listen to some examples of ShapeShifter in action...

© Copyright Alexandros Gounaropoulos