Additive synthesizer with morphing, resynthesis, and great ease of use!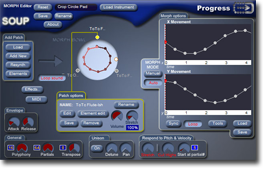 FEATURES:
- Load up as many sounds as you like, then morph between them in real-time and with complete freedom.

- Control morphs manually using the mouse in real-time, or automatically by drawing envelopes for X and Y movement.

- Powerful editing features give you access to each of Soup's 64 partials. Design how amplitude, detune and pan for each partial changes over time using the graphical editor.

- Resynthesis to allow you to import new sounds from standard WAV files.

- The unique Elements Editor makes additive synthesis accessible. Create and edit sounds by adjusting 5 elements of the sound (Overall tone, change in tone over time, pan, detuning of harmonics, and envelope).

- Unison mode for instant fat, analog-type sounds.

- Built-in effects section featuring reverb, delay, distortion, chorus, resonant filter, formant filer, modulation matrix, 2 LFO's and assignable envelope.

- Can respond realistically to note pitch and velocity for expressive, natural sounds.

- Comes with 300 high quality presets featuring sounds from ToTc Productions and Daniel Maurer.

- Includes a full manual in PDF format.
A CLOSER LOOK...
Add one or more sounds to the Morpher bowl (you can add as many as you want), and then morph between them to get new sound. Combine the characteristics of different sounds, or create instruments that evolve and change as you play them.

Either control the morph manually with the mouse, or plot a graph and let Soup control the morph automatically.

The Element Editor is an innovative feature which allows you to design quicker than in any other additive synth.

Take control over 5 'elements' of the sound (Tone, changes in tone, pan, tuning and envelope).

Mix any number of presets for each 'element' until you get the sound you want!

Make precise changes to your sound using the Patch Editor. Complete control over amplitude, detune and pan for every partial.

Either make overall changes to the tone, or use the 'Time slice' mode to shape the tone at individual points in time. This allows you to create sounds that change over time.

Comprehensive effects section, featuring Reverb, Delay, Distortion, Chorus, Resonant filter effects.

Also included is a formant filter, as well as flexible modulation options.
System requirements:
PC running Windows 2000/XP, VST-compatible host program,
1GHz processor (recommended), 256Mb RAM, 120Mb free hard-disk space

A sound is worth a thousand words, so take a listen to some examples of Soup in action...
Demonstration of Soup's morphing feature
Some big pads in action in this track
Catchy number from ToTc Productions
2 Short loops from ToTc Productions

© Copyright Alexandros Gounaropoulos